There was a fantastic turnout at the YCL's emergency demonstration outside the Ukrainian Embassy in London yesterday (14/05/2014).
Communists, trade-unionists and antifascists gathered at the demonstration called by the Young Communist League to condemn the EU-US-NATO led intervention in the country and to protest against the rise of fascism and attacks on communists and trade-unionists in Ukraine.
YCL general secretary Zoe Hennessy said:
We called this demonstration in order to demand an end to fascist violence against trade unionists and communists in Ukraine, and protest against the Communist Party of Ukraine's expulsion from parliament, a party which 3 million Ukrainians voted for.

"We extend our solidarity to the Communist Party of Ukraine, and demand the the anti-democratic EU-NATO-USA backed junta steps down."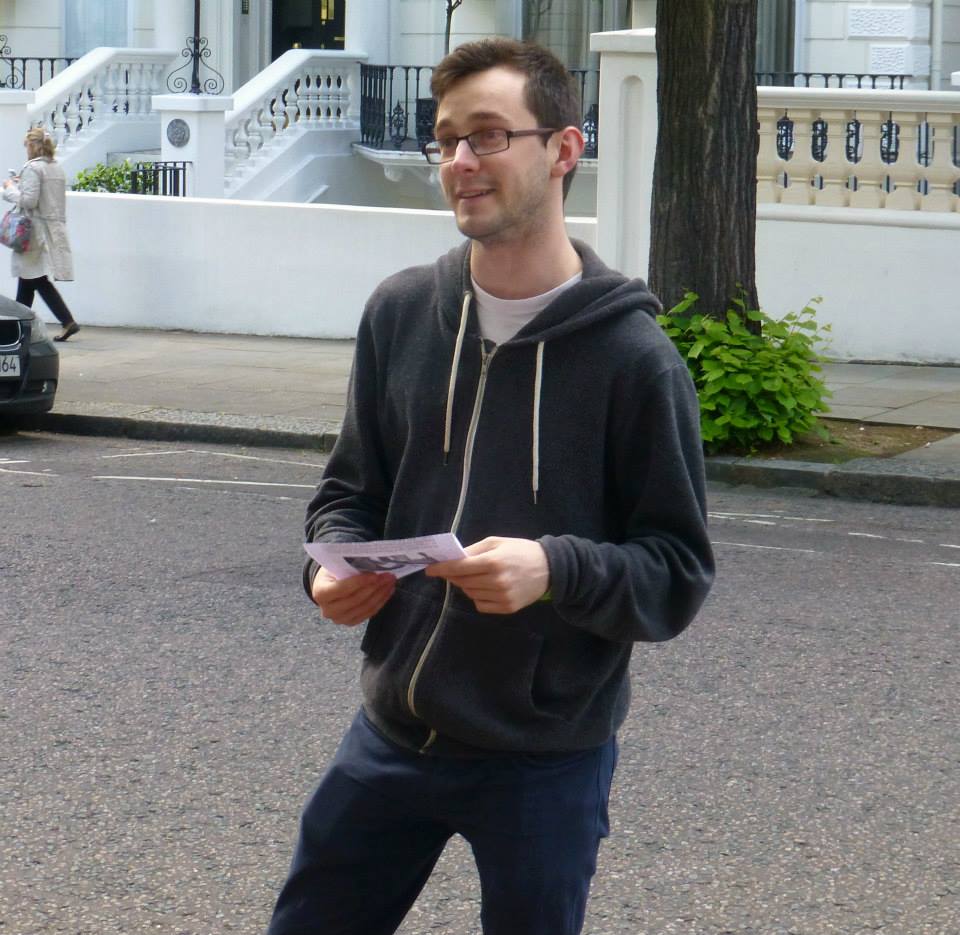 The demonstration was attended by 60 plus antifascists and represented a truly broad front including: YCLers, members of local Communist Party branches, trade unionists, members of the Indian Worker's Association, a host of comrades from fraternal British domiciled communist parties and youth organisations – amongst others.
Julian Jones representing the YCL Executive Committee addressed demonstrators as well as a delegate, warmly received, from RMT Paddington Branch. A delegate from the Greek Young Communist League (KNE), told the crowd:
Speaker from the Greek Communist Youth (KNE)

The escalation of violence and repression carried out by the government of Kiev which is the product of a coup d'etat, against the people in east Ukraine highlights the enormous responsibilities of the USA, NATO and EU."

"They support the nationalist government of Ukraine and other fascist forces in the framework of their competition with Russia."

"People in Britain, together with all the peoples of Europe, must condemn the imperialist intervention of the USA-NATO-EU in Ukraine as well as every attempt to restrict the rights of the Ukrainian people and ban the activity of communists."
Afterwards YCLers handed in a statement and a letter demanding an end to repression and attacks on the Communist Party of Ukraine and for the Neo-Nazi junta to step down. Speakers also called on the British government to end its involvement in propping up the dictatorship, and to cuts all ties with the junta.
Building on an earlier demonstration by YCLer's in Edinburgh, the YCL in London was proud to have played a role in demonstrating the British working class and British youth will not sit idly by and suffer the resurgence of fascism in Europe. From Edinburgh to London, and all over Britain, the cry was clear –  ¡No pasarán!