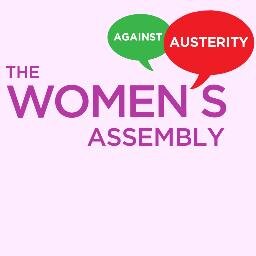 Anita Wright, Secretary of the National Assembly of Women and Communist Party Executive Committee, member calls for women to attend the Women's Assembly Against Austerity in this article from the Morning Star. The YCL welcomes this initiative as ruling class austerity is hitting women, and even more especially young women, particularly hard. Cuts in legal aid, cuts in public sector employment, cuts in welfare and the general rolling back of the gains of the working class since WWII are most acutely impacting on women.
"Women remain at the sharp end of Cameron's vicious economic and social austerity policies. As women's unemployment rises, wages fall, the pay gap widens and household and living costs rise, women face a daily struggle to keep themselves and their families from slipping deeper into poverty. This is particularly true now that one in three families have a woman as the main breadwinner. The introduction of the totally unnecessary and vicious bedroom tax has added insult to injury. During the first four weeks of the bedroom tax coming into force more than 14,000 Merseyside households fell into arrears with their rent. For nearly 6,000 it was the first time they had ever spiralled into rental debt.
Forty five years after the Dagenham women workers walked out in the fight for equal pay and inspired a generation, the gender pay gap in the area is still double the national average at 32.2%, compared with a national average of 14.9% (comparing mean full-time hourly earnings excluding overtime). As Frances O'Grady said on the anniversary of the Dagenham strike "For an awful lot of women, they start off in a low-paid job, and they end their working lives in a low-paid job. Shop work, cleaning, catering: there are legions of working women in low-paid jobs." She argued that while it is important to celebrate the fact that an enormous amount has been achieved since Vera Sime and her colleagues walked out, there's still plenty more to fight for. "Maybe we need a bit of that spirit back". It was with this in mind and following the huge success of the People's Assembly Against Austerity in June 2013, that the National Assembly of Women along with women from the People's Charter and Stop the War decided to co-ordinate a Women's Assembly Against Austerity to take place on Saturday 22nd February 2014 at Conway Hall, London.
The aim is to follow the same formula as the People's Assembly and reflect the cultural and social diversity of the women's movement and show-case the important role women have played in campaigns for equal pay, childcare and historic trade union struggles. It is hoped to create a positive and creative atmosphere with a good balance of speakers as well as a mixture of comedy, poetry and visuals.  The only criteria for involvement in the Women's Assembly are that individuals and organisations must be anti austerity and support the founding statement of the People's Assembly. Planning is in the early stages, but so far the idea has been endorsed by the signatories group of the People's Assembly and met with approval from the Charter for Women, CND and a number of unions. It is hoped that the Women's Assembly will bring together single issue campaign groups, women in the trade union movement and other organisations fighting for peace and equality.  The purpose is to:
• Give voice to the impact that policies of austerity and privatisation are having on women
• Develop thinking about the alternatives to austerity from women's perspective
• Encourage women in resisting through linking up and learning from each other, including between women's organisations and women in the labour and trade union movement
• Ensure that women are at the front and centre of a movement against austerity and in developing the alternative
The National Assembly of Women was created in 1952 when women from all over Britain came together to demand peace, equality and justice. It is hoped that this Women's Assembly Against Austerity will re-create the passion and determination to fight for the same aims. It's time for women to get active, get organised and get even with a Government that is hell bent on destroying the hard won rights of women and working people in order to maximise the profits of their friends in banking and big business."
Follow the Women's Assembly on twitter @WomensAAA