The Young Communist League Scotland is pleased to advertise it's Spring 2014 Day School! The day has an array of speakers on a variety of subjects and building on the success of the Autumn 2013 day school promises to be an excellent event.
_____________________________________________
Timetable for the event (Classes may be subject to change):
10:45am – Registration; Tea and Coffee
11am – Opening Plenary; The YCL and Scotland in 2014; plus a Fraternal address from Scottish Committee delegate
11:30am – Two workshops: 1. Back2Basics: Dialectical Materialism – Thomas Morrison, CP Scotland Secretary
2. Socialism and the Enviroment. – Owain Holland, YCL North-West Organiser
12:30pm – Lunch (one hour break)
1:30pm – Two workshops: 1. Women & Class – Zoe Hennessy, YCL General Secretary
2. Public Speaking – Raymond Mennie, CP Dundee Organiser
2:30pm – Tea and Coffee break (15 minutes)
2:45pm – Two workshops: 1. Marxism & Law – Johnnie Hunter, YCL Scotland Organiser
2. Socialism: Winning the Arguments – Ryan Boyle, YCL Glasgow Branch Secretary and Communist Party 2013 Govan by-election candidate
3:45pm – Closing Rally
4pm – Close
5pm till late – Buffet and Social + Raffle and Fundraiser
_____________________________________________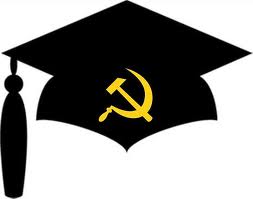 The School is open to all YCL members and all CPB members under 35 – and also to friends and supporters of the YCL by prior agreement. Although the school has been organised by YCL Scotland it is completely open and welcoming to comrades from all over Britain. Feel free to bring a friend or workmate!
Tickets will be £3 waged/£1 unwaged; however we would seek to stress that we aim for cost not to prevent any comrades from attending.
The day will be comprised of a series of workshops on both practical and theoretical subjects. Each pair of workshops will run simultaneously but the last 15 minutes of each session will be used for a joint summary of each workshop; what was discussed, what was learned etc.
The learning will be cooperative, so the greater the attendance the more worthwhile and enriching the experience.
Comrades should make every effort to attend. It is fine if you can only manage to attend for part of the day or for just a few workshops.
Like last year there will be a dinner, social/fundraiser afterwards in Unity office.
Please contact YCL Scotland to register as soon as possible so we have an idea of numbers, payment can be made on the day.
Plenty of notice is being given to maximise attendance, giving comrades time to organise the cheapest transport and time off work etc. Free accommodation will be provided if notice is given.