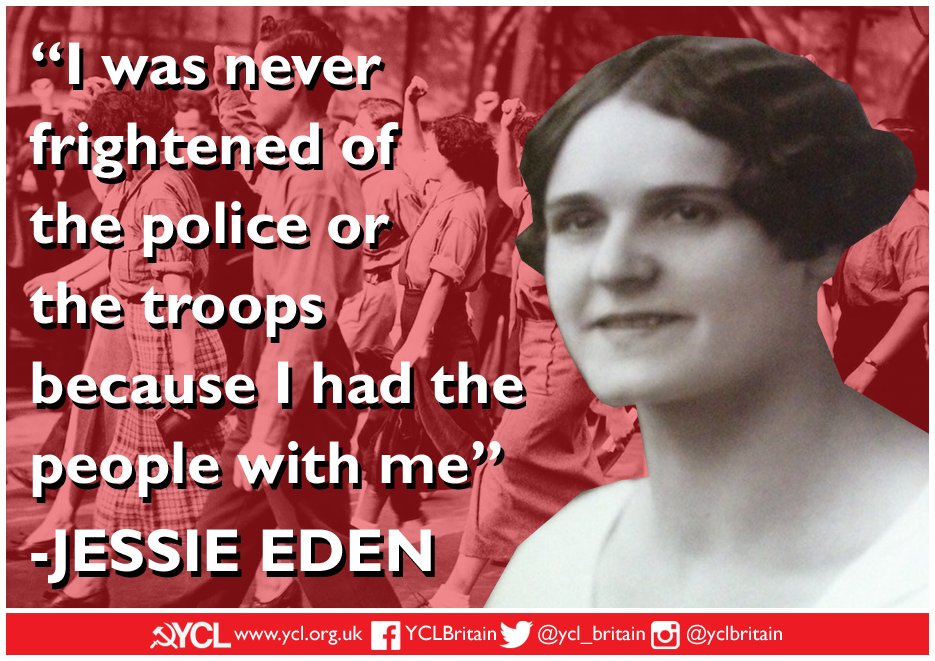 As part of a month long build up to International Women's Day celebrations on the 8th of March, the YCL will be publishing daily articles highlighting the exemplary role played by women in the international communist and working class movement.
Today we pay tribute to a hero of the early Communist Party, nowadays of Peaky Blinders fame, Jessie Eden #29.
YCLers are encouraged to host, support and participate in celebrations locally to bring the message of International Women's Day into our workplaces, colleges and schools, and communities.
Jessie Eden (1902-1986) was born in the All Saints sub-district of Birmingham. Jessie would, in due course, become, during the 1930s and 1940s, a mass leader of women workers, a Moscow Metro builder, a tenants' leader and a pretty successful Communist election candidate.
Her first known foray into the world of militant unionism was in 1926 during the General Strike. Jessie was working at Joseph Lucas' motor components factory, where she worked filing shock absorbers and already a shop steward for the Transport & General Workers Union (T&GWU). The probability is that hers was the only section or one of a few sections of women workers unionised in the entire plant. Nonetheless, the toolmakers came out en masse at Lucas in 1926, closing the plant. Jessie herself marched out taking all the women in her section with her. Her father was also on strike and her mother, in a mood of semi-festive support, hung a red flag from the front window of their home.
It was a time of massive working class protest; the evening of the traditional May Day march on the streets of Birmingham saw 25,000 in procession and 100,000 spectators. Thus, from a class conscious family and herself an established trade union activist, Jessie was in a strong position to lead all of the women of Lucas when the time came that they were ready for action. The T&GWU was very weak at Lucas but there were Communists organising among the workers who Jessie came into contact with.
In January 1931, Jessie went down in history by leading ten thousand women out on a week's strike, an extraordinary thing in those times. The strike centred on attempts to speed up line working and timed toilet visits. Jessie went to the AEU, but it did not then admit women into membership, so she went to the TGWU. Union officials, she said, "looked at me amazed when I brought the application forms filled up". A rank and file committee of forty, representing ten shops, was set up and lunchtime meetings outside the factory built up from a few dozen to several hundred and the women simply walked off the job in their thousands.
Faced with a complete stoppage, the Lucas directors backed off. A notice was issued discontinuing the system. "VICTORY! BEDAUX SYSTEM SMASHED!" ran the headline in the Communist Party's Daily Worker on 29 January 1932.
After things calmed down and during major cut backs at the firm, Jessie was victimised by the management at Lucas and lost her job. Having joined the Communist Party during the strike, she was sent by it to Moscow. In later years, she was to tell her daughter-in-law: "I went there but I couldn't tell anyone where I was going; nobody knew where I was for two years."
Jessie was sent to help rally Soviet women workers in the construction of Moscow's Metro. Although she was a tiny woman, she was quite strong physically, so it was not a device for show. Jessie also gravitated towards the Comintern's Lenin School for cadre development in Moscow, initially in her spare time but eventually permanently.
The Metro was up and running just four years after construction began in 1931 and was such a stunning architectural achievement that it is even now a lasting monument of socialism. In total, she worked in the Soviet Union for two and a half years and was elected a shock worker at the Stalin automotive plant.
Back in Birmingham, Jessie returned to an element of normality. Sometime around 1937, her Jessie's life partner now came into her life. Fellow Communist Party member Walter Baxter McCulloch was the oldest of four sons who had moved from Glasgow's Gorbals district to Birmingham in the Depression.
The brothers played a significant role in the 1939 mass rent strike and in the Communist Party in Birmingham over the years, whilst Jessie was the "inspiring" Vice-President of the Central Tenants Association. Some 90% of all of Birmingham's tenants withheld their rents for ten weeks, even though the struggle was intense, with raids by bailiffs on rent strikers. Some 8,000 women were mobilised for one mass procession.
She had become such a self-taught expert in the housing problems of tenants that, when she toured the country during the war, speaking at massive CP public rallies, she was frequently billed as "Jessie Eden, the Tenants' KC", the equivalent today being "QC".
Jessie was a key promotor of the visit of the wartime Ambassador for the USSR to Britain, along with his wife, to the Birmingham Railway Carriage and Wagon Company in Handsworth. This was Ivan Mikhailovich Maisky the Soviet's Deputy Minister of Foreign Affairs serving under Molotov. Maisky came to Birmingham to symbolically collect the first Valentine tank off the production line before it began its hazardous route to the Second Front via the Murmansk Convoys. Jessie was certainly very much to the fore in pro-Soviet war time activity.
Jessie contested the August 1945 general election in the Handsworth constituency, winning 1,390 votes, or (for a Communist) a respectable 3.4%. Living in Handsworth, her slogan was `Elect a Handsworth woman for Handsworth'. Only a few months' later, in the November 1945 municipal elections, Jessie did stupendously well – not enough to become elected a councillor – but she more than doubled her vote, polling 2,887 votes in a single ward. Two other Communist candidates in Birmingham also polled well but Jessie was way out ahead.
In the 1950s and 60s Jessie dedicated her much of her time to raising her family although she maintained a deep political awareness. She remained deeply involved in the Midland Communist Party.
Jessie began to show early signs of dementia in the 1970s and the loss of her husband Walter in 1977 hit her hard. The last years of Jessie's life were spent in hospital. She died in Birmingham on September 27th 1986, aged 84.
Jessie Eden, as she was still commonly called amongst older Communists, was still revered by them, when she died, as a towering figure of the pre-war Party. She now became remembered by her Party as a heroine of early Communist mass leadership at a local level. Mainstream historians are only now just beginning to grasp the essential importance of her role in the 1930s.
Jessie was a real history-maker and her life and personality deserves to be better known. The so-called `new industries' of the 1930s (producing luxury goods for the middle class) used a lot of female labour and the unions weren't really interested in organising them. The Communist Party thought otherwise and so too did Jessie.
On International Working Women's Day 2019 we pay tribute to this early titan of British Communism.