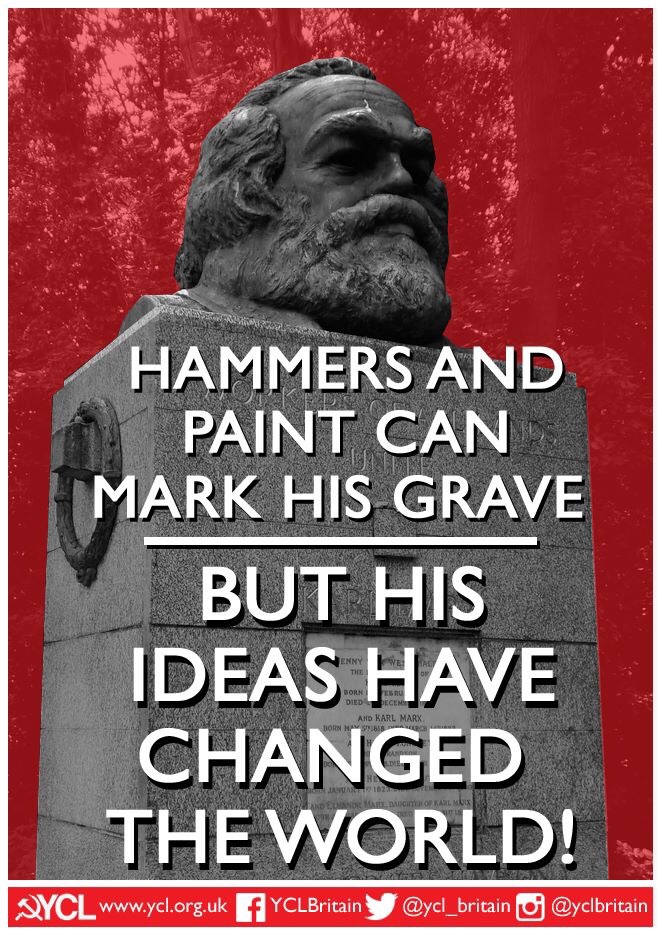 The Executive Committee of the YCL has released the following statement in response to the cowardly vandalism of the grave of history's greatest philosopher, Karl Marx.
For the second time in two weeks we have seen Marx's grave attacked and vandalised in London.
Whilst we are more concerned with the tangible impact of Marx's work, we cannot sit idly by while anti-communists attack the graves of those that inspire us.
This attack is an indication of Marx's resurgence in influence across Britain and across the globe- we are on the march again.
The YCL unequivocally condemns the act of those who seek to fight against us but are too weak to carry out these attacks in person. In recent years we have seen fascists and anti-communists grow in confidence- we must unite across the Labour Movement to ensure that the confidence, which acts like this will inspire, is quelled before it can fully develop.
We will fight fascism wherever it rears its ugly head, whether this is in Highgate Cemetery, our workplaces or the football terraces. More than this, we must continue to use the teachings of Marx, among others, to continue our campaigning in unions, anti-fascist organisations and solidarity groups.
Yes to carrying on the teachings of Marx.
No to anti-communism.
Executive Committee
Young Communist League
London, Britain
16 February 2019