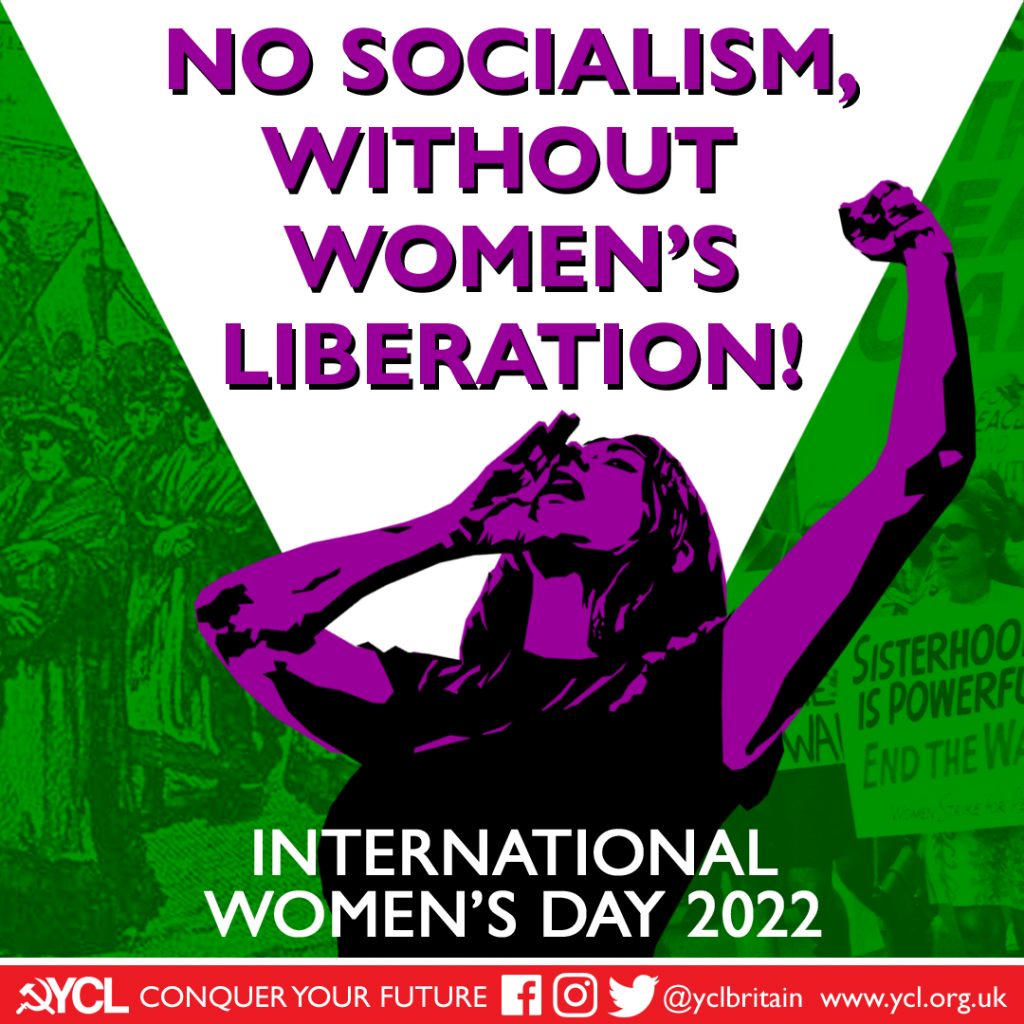 The Young Communist League sends greetings and solidarity to working women everywhere on International Working Women's Day 2022, and issues the following statement from our All-Britain Women's Commission:
Capitalism has condemned us women with fewer resources for escaping poverty. The consecutive Conservative governments have hit women the hardest. The cuts on public services, lack of state benefits, and a difficulty to deal with caring responsibilities and work make women more likely to experience inequality than men. This is exacerbated by the fact that women are more likely to be on 'low-skilled' jobs, receiving less pay than their male peers, or unemployed.

Young women are objectified and coerced into selling their bodies just so that they can afford to pay their bills. OnlyFans and all the other sexually exploitative platforms that are sold to us as a solution are only contributing to women's oppression. This has left many young women feeling that they are only valuable for sexual purposes, creating a society where we are seen as inferior to men and judged by our 'attractiveness'.

The Home Office last year published a report which proposed strategies for combatting sexual abuse, following Sarah Everard's murder. They point out prevention, persecution of offenders, and giving more support for the victims. This is not enough. Institutions such as the police, universities, and councils, are the ones helping to perpetuate a patriarchal system where women are not valuable if there is no profit.

Spiking has become a true epidemic after covid. Up to 15% of young women have experienced it in their lifetime. Such an increase highlights the disregard many men hold for consent. The failure of the British government to combat abuse, be it spiking or sexual assault, highlights a societal complacency over the matter. Once again, as a result of capitalism and all the institutions behind it, we are seen as throwaway bodies purely existing to satisfy the wants of men.

For International Working Women's Day, we can't forget the fact that many women in the world are currently living in warzones: in Ukraine, in Yemen, in West Sahara, in Palestine…
All these conflicts are leaving women more vulnerable to sexual predators and gangs that will use those women to prostitute themselves both at home and in Western countries.

Also in Ukraine we can't forget those women that are sent to farms as part of surrogacy programs where they are only treated as human incubators for wealthy Western families.
For all of these reasons, we demand:
– Equal pay.
– More funding to organisations that work for the eradication of the Violence Against Women and Girls.
– Real measures to prevent spiking, sexual violence and domestic violence in schools, colleges and universities.
– To stop sending weapons to countries in conflict.

We need to remember that under capitalism, there will not be any escape from patriarchy.
There's only one way to defeat it and that's with Socialism.
"Women's Days and the slow, meticulous work undertaken to arouse the self-consciousness of the woman worker are serving the cause not of the division but of the unification of the working class."
– Alexandra Kollontai
–
Central Committee
Young Communist League
8 March 2022
London, Britain