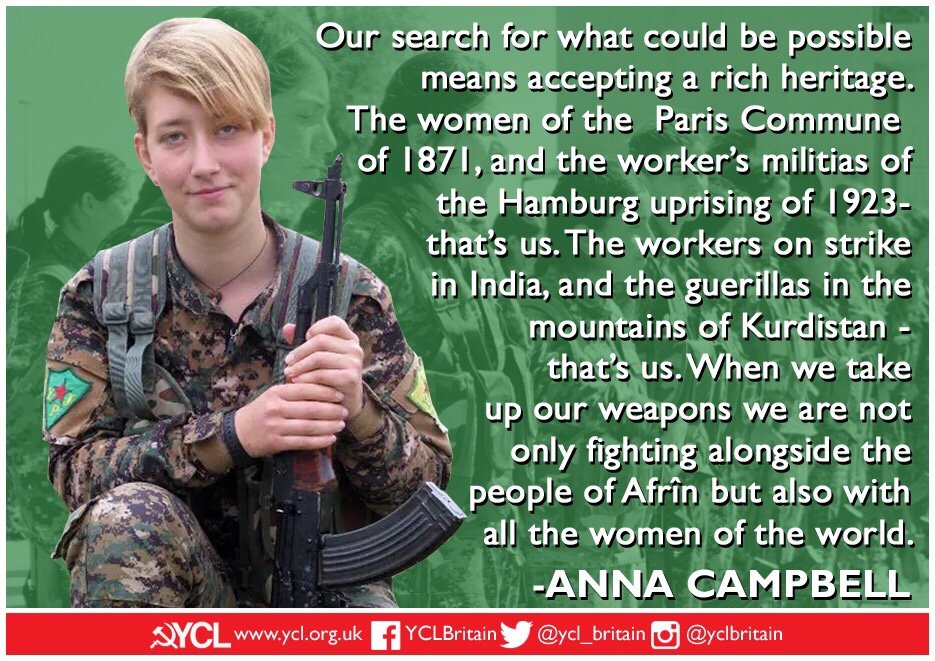 As part of a month long build up to International Women's Day Celebrations on the 8th of March, the YCL will be publishing daily articles highlighting the exemplary role played by women in the international communist & working class movement.
Today we commemorate the life of YPJ martyr, Anna Campbell #24.
YCLers are encouraged to host, support and participate in celebrations locally to bring the message of International Women's Day into our workplaces, colleges and schools, and communities.
Anna Campbell (1991-2018) or Hêlîn Qereçox, was a British revolutionary, activist and YPJ volunteer who was killed last year in Northern Syria (Rojava), while defending the Afrin region from Turkish forces and their Islamist allies.
She travelled to Syria to participate in the fight against ISIS, as a combatant in the Women's Protection Unit's (YPJ), motivated by the secular and feminist society being built amongst the ashes of jihadi fascism. When Turkish forces backed by the extremist gangs of the Free Syrian Army invaded Afrin in Kurdish held Rojava, international volunteers were advised away from the front lines, as Turkey is a NATO member and therefore a military ally of many of the volunteer's respective imperialist governments.
Motivated by the sisterhood and comradeship of the Kurdish women she fought alongside, Anna refused to be told she could not defend Afrin from the invaders and de-westernised her appearance.
Anna was martyred fighting Turkish forces on the 18th of March, 2018. She immediately lived on through Kurdish led solidarity actions in Britain and across the world, including the blockade of BAE systems in Bristol. BAE, Britain's largest arms manufacturer, provides vital munitions to the Turkish airforce that killed Anna.
Solidarity demonstrations were largely ignored by the British press and the Government. Anna's body has not been returned to her family, who accuse the government of ignoring the issue, likely in favour of big money defence contracts.
The Young Communist League calls for Britain's young people to remember Anna's sacrifice, her internationalism and vows to support fresh solidarity actions taking place on the anniversary of her death this year.
Sehid namarin the martyrs are immortal!