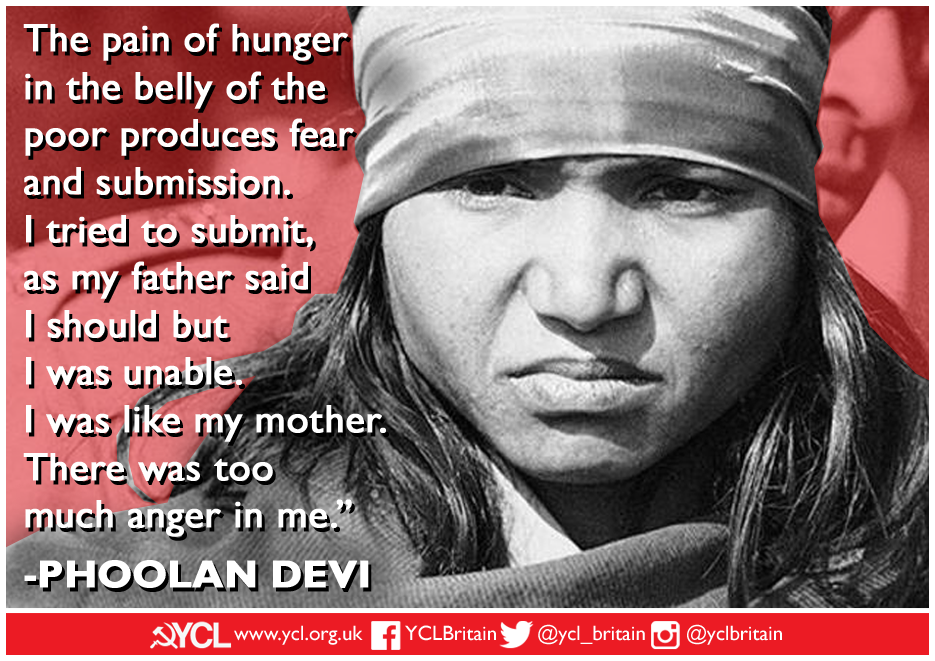 As part of a month long build up to International Women's Day Celebrations on the 8th of March, the YCL will be publishing daily articles highlighting the exemplary role played by women in the international communist & working class movement.
Today we consider the life of Phoolan Devi, 'Bandit Queen' and Indian politician #23.
YCLers are encouraged to host, support and participate in celebrations locally to bring the message of International Women's Day into our workplaces, colleges and schools, and communities.
Phoolan Devi (1963-2001), born into a poor family in Uttar Pradesh India, was popularly known as the "Bandit Queen" before becoming a member of parliament. Phoolan endured poverty, an abusive child marriage before taking to a life of crime.
Phoolan's family were living in poverty, the small amount of farmland they owned was only one acre, with a very old Neem tree. At eleven years old, her paternal grandparents passed away, leaving her uncle to become head of the family. Maya Din Mallah, her cousin, wanted to cut down the tree as it wasn't very productive and wanted to cultivate the land with more profitable crops.
Phoolan, now a teenager, was extremely angry about this and protested by taunting him publicly and accusing him of being a thief over several weeks, before staging a sit in on the land with other girls in the village. When they refused to leave, even after the village elders tried to drag them home, she was eventually beaten unconscious with a brick.
A few months after this incident, When Phoolan was eleven year old her family arranged for her to marry a man named Puttilal Mallah, who lived several hundred miles away and was three times her age.
She suffered continuous beatings and sexual abuse at the hands of her husband and after several attempts at running away was returned to her family in 'disgrace'.
Phoolan sought escape by running away to join a group of bandits, being the only women, she later became the lover and partner of one of the bandits. The relationship, couple together with the Caste difference, caused tension amongst the gang members ending in a shoot out that claimed the life of Phoolan's lover. The victorious rivals, the Rajput's, took Phoolan back to their village of Behmai, where she was subjected to assualt and rape by each gang member.
After escaping, Phoolan rejoined the remnants of her dead lover's faction who were gangs of Mallaah, took another lover from among those men, and continued with banditry. A few months later, her new gang descended upon the village of Behmai to exact revenge for what she had suffered. Upto twenty two men, known to take part in the gang rape of Phoolan, were lined up in a row and shot dead. Her act of revenge was celebrated as an 'act of righteous rebellion' by the press.
After two years on the run, evading capture, Phoolan turned herself in to the police in the 1983. She was charged with 48 crimes including murder, arson and kidnapping for ransom. She spent the next 11 years in jail, before all charges were dropped in 1994. She then stood for election to parliament as a candidate of the Samajwadi Party and was twice elected to the Lok Sabha as the member for Mirzapur. In 2001, she was shot dead at the gates of her home in New Delhi, by former rival bandits whose kinsmen had been slaughtered at Behmai by her gang.
Phoolan Devi's tumultuous life involved rebellion against a patriarchal society rigidly divided along lines of gender, caste and class. Her response to sexual violence proceeded a broader counteroffensive led by women in India and the world today against rape and sexual assault.