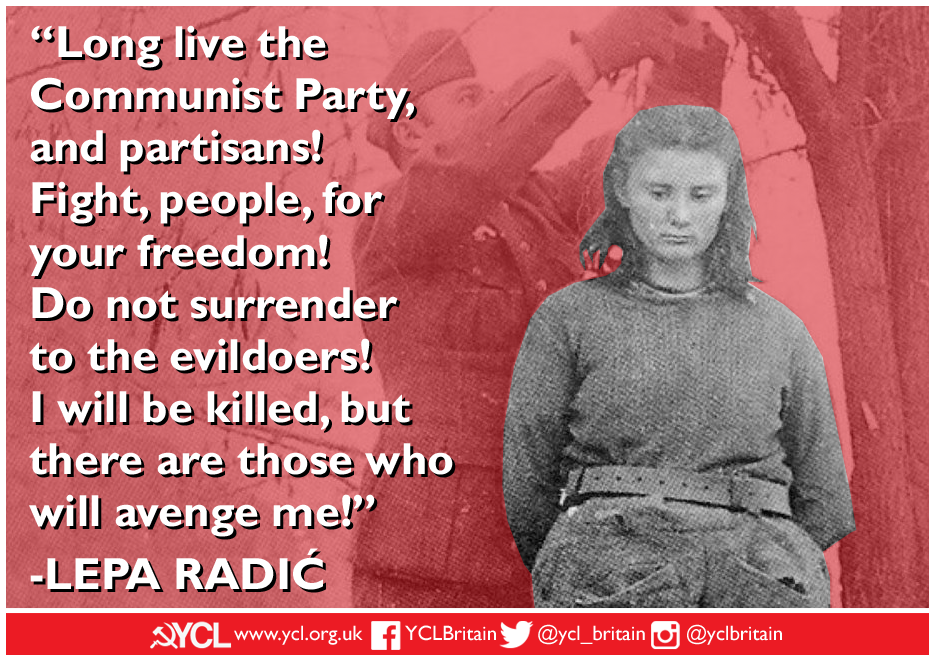 As part of a month long build up to International Women's Day Celebrations on the 8th of March, the YCL will be publishing daily articles highlighting the exemplary role played by women in the international communist & working class movement.
Today we pay tribute to martyred Yugoslav Partisan and antifascist fighter Lepa Radić.
YCLers are encouraged to host, support and participate in celebrations locally to bring the message of International Women's Day into Our workplaces, colleges and schools, and communities.
Lepa Radić (1925 – 1943) was born in what was then Yugoslavia to a Communist Bosnian Serb family.
Radić was hardworking and studious during her time in school. Radić's uncle was a labour movement militant. She was 15 when the Nazis invaded Yugoslavia in April 1941 in order to secure the Balkans in preparation for the invasion of the Soviet Union. Radić joined the YCL's sister League of Communist Youth of Yugoslavia (SKOJ) and became a member of the Communist Party of Yugoslavia at the age of 15.
The first detachments of what was to become the National Liberation Army of Yugoslavia sprang into action as the Nazis proceeded with their ill-fated invasion of the USSR in June 1941. As across the rest of occupied Europe, Communists were at the fore of organising and leading antifascist resistance.
The Yugoslav Partisans were spectacularly successful, liberating vast swathes of occupied Yugoslavia, tying down German divisions and inflicting substantial casualties. These successes were hard-fought against a Nazi invader using the cruellest of tactics, who refused to apply the accepted laws of war to partisans. Leader of the Yugoslav Partisans, Josip Broz Tito would later be President of Yugoslavia.
Radić's father and uncle's joined the Partisans and her entire family were later arrested by fascist collaborators in November 1941. Following her escape from captivity on 23 December 1941 she made the decision to join the Partisans herself.
Radić fought during the Axis 'Case White' offensive in 1943 intended to eliminate Partisan groupings in Yugoslavia. She served transporting wounded from the frontline during the fierce battle of Neretva. She was captured by SS troops while attempting to evacuate women and children. She held off Axis troops until she ran out of ammunition.
Lepa Radić was brutally tortured by Nazi interrogators who hoped to extract information on Partisan troops and the location of Communist Party cadres. She resolutely refused to betray her comrades even when condemned to death.
The Germans brought her to public gallows and offered Radić a final chance to give the names of her comrades in exchange for her life. She responded:
"Long live the Communist Party, and partisans! Fight, people, for your freedom! Do not surrender to the evildoers! I will be killed, but there are those who will avenge me! I am not a traitor of my people. Those whom you are asking about will reveal themselves when they have succeeded in wiping out all you evildoers, to the last man."
Lepa Radić was 17 years old when she was executed by fascist invaders. She was awarded the Order of the People's Hero by the Yugoslav government in 1951.
She will never grow old. Hers was the ultimate sacrifice made in the name of peace and freedom. She lives on as an eternal inspiration to the Communist youth of the world.
¡No Pasarán!