Young Communists take to Britain's streets in solidarity with comrades facing repression in Ukraine.
---
BRITAIN'S Young Communists took to the streets across Britain on Saturday [10 February 2018] in solidarity with their comrades facing repression in Ukraine.
They gathered in London, Glasgow, Edinburgh and Manchester to protest against the Kiev regime's "violation of the political and civil rights of Ukrainians by adoption of laws banning the use of communist symbols and ideology."
In Manchester, they descended on the statue of Friedrich Engels that artist Phil Collins rescued from Ukraine, where it had been consigned to the scrapyard — a victim of Kiev's ban on communist symbols.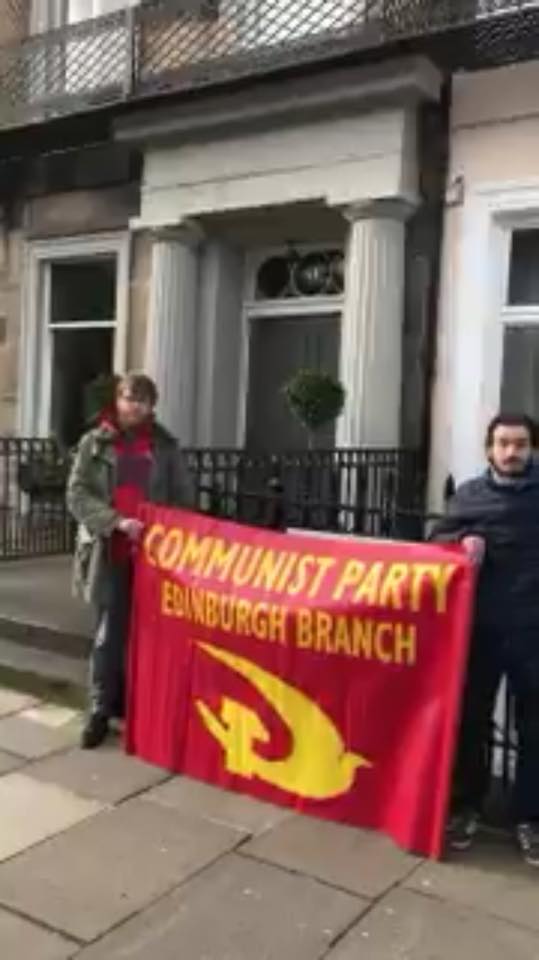 Edinburgh protesters handed in a letter of protest at the city's consulate but, in London, embassy staff refused to accept the letter to the ambassador, instead calling armed diplomatic police.
YCL executive committee member Robin Talbot told protesters: "We called this national day of action because we face a chilling reality. That reality is that nazi-fascism is back in power in Ukraine."
He pointed out that February 10 was the 71st anniversary of the signing of the Paris peace accords, a post-World War II promise between the victorious allies to uphold peace and democracy.
"Britain and the countries of Europe swore that never again would nazism rear its ugly head in Europe."
At La Pasionaria statue in Glasgow, YCL chair Johnnie Hunter asked: "What do we see of Theresa May and the British government's commitment to this promise in 2018?
"Britain along with the other Nato powers have provided advisers, training and weaponry to the Ukrainian army, which is propped up with nazi paramilitaries."
---
This article originally appeared in the Morning Star.
Find out more about our activities in support of the antifascist resistance in Ukraine.