For Peace, Jobs and Socialism in our Lifetime!
The Young Communist League (YCL), founded in 1921, is a revolutionary youth organisation and the youth wing of the Communist Party of Britain. We fight for the working class, people power, and Socialism.

Celebrate 100 Years of the Young Communist League: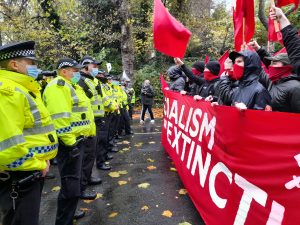 Yesterday the Young Communist League joined thousands of protestors in opposing the sham COP26 meeting in Glasgow, Scotland. As has been noted in the national media and by many online, we were surrounded by a police line that engaged in arbitrary confrontations with us throughout the day. They opposed our right to march with no reason given to us or legal observers, clearly seeing us as a credible threat.
Read More »
" I must say that the tasks of the youth in general, and of the Young Communist Leagues and all other organisations in particular, might be summed up in a single word: learn. "