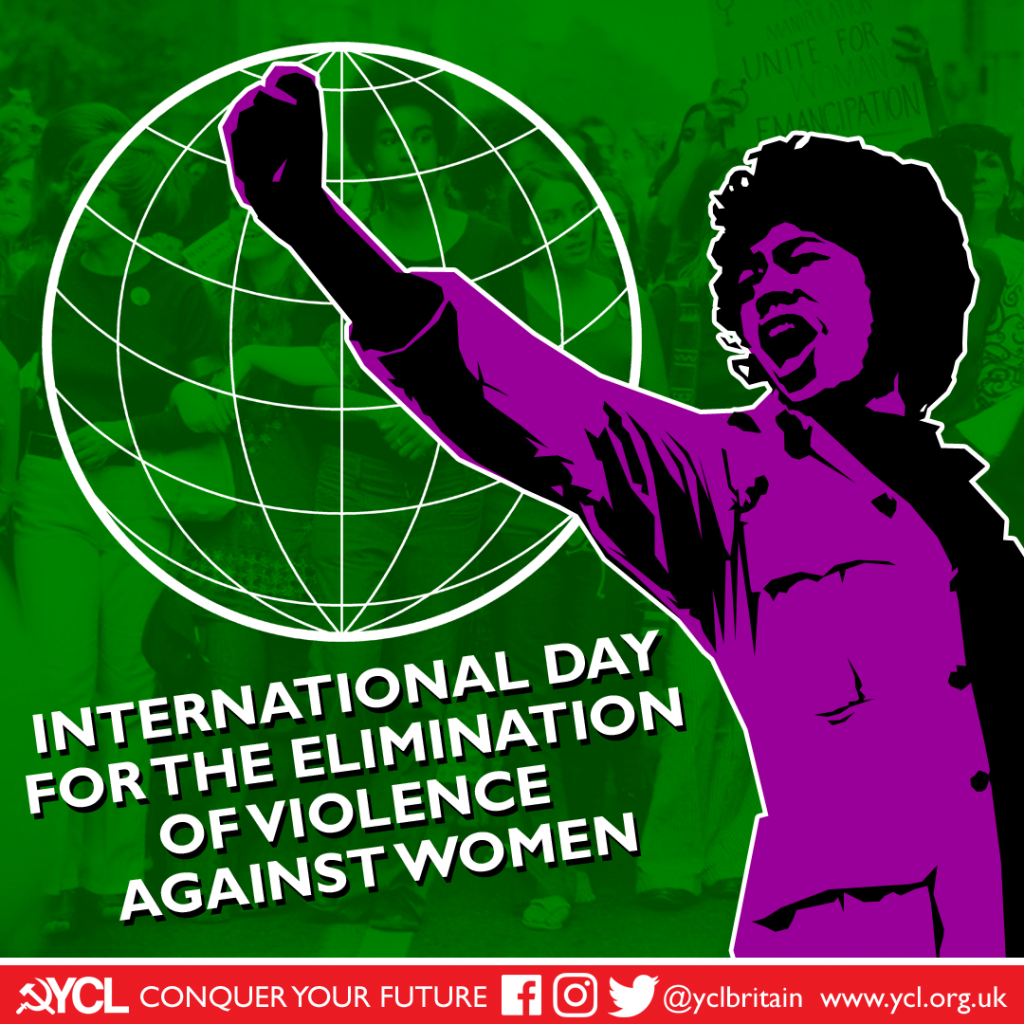 The Central Committee & Women's Commission of the Young Communist League has issued a statement to mark the International Day for the Elimination of Violence Against Women.

Today, the 25th November, is marked around the world as the International Day for the Elimination of Violence Against Women. In Britain and globally, epidemic levels of violence against women and girls remain a stain on our society which capitalism is incapable or unwilling to eradicate.

This year we saw prominently in the media the cases of Sarah Everard and Sabina Nessa as shocking and extreme examples of this violence within our society, as well as an increase in spiking within our pubs and clubs.

The statistics on gendered violence in Britain today speak for themselves:
Four out of five young women have experienced sexual harassment.
One in five women have experienced some form of sexual violence since the age of 16.
Half of all young women experience controlling behaviour in an intimate relationship.
41% of girls aged 14 – 17 experience sexual violence from a partner.
Almost two-thirds of women and girls aged 13 – 21 suffer some form of sexual harassment at school or college.
Approximately 85,000 women are raped and over 400,000 women are sexually assaulted in England and Wales every year.
Domestic Violence will affect one in four women, and it has more repeat victims than other crimes.
In England and Wales alone, 2 women are killed every week by a partner or former partner.
Women are more than 9 times as likely to be killed by a partner or former partner.
Every week 3 women commit suicide because of domestic violence.
The police receive a domestic violence-related call every 30 seconds even though less than 24% of domestic violence crime is reported to the police.
The overwhelming majority of domestic abuse cases are not prosecuted and very few end in conviction.
On July 2021 the home office released a report about the data and measures that the government will supposedly apply to prevent these offences, after they've spent years of cutting funds & neglecting the vital services of womens shelters and VAWG organisations.
Furthermore, these measures specifically focus on us women as the ones which need to take care of ourselves to stop ourselves being victims, rather than tackling the real perpetrators of the violence in order to prevent it.
Among young people, sex and personal education in our schools is completely inadequate and is contributing to the problem. Increasing numbers of children and young people are exposed to graphic hardcore pornography before learning about consent and what a healthy relationship is.
The YCL recognises that capitalism is the problem. That violence against women and girls is not an inevitable or naturally occurring reality. That the oppression of women is inherent to a system which recognises women as a product of their sexual and carer roles; economically, socially and politically dividing the working class through this conflict. That the liberation of women can only come through a united class struggle, against the economic system which forms the basis for women's oppression.
Britain's young communists are calling for:
Increase of healthy sexual and personal education in order to erase the development of violence against women and girls in schools, colleges and universities.
Increased and ring-fenced funding and support for victims of gender-based crimes and violence.
New and efficient mechanisms to detect, investigate and prosecute domestic violence, harassment, spiking and violence against women in general.
No to violence against women.
For equality and dignity for women and girls.
Central Committee & Women's Commission
Young Communist League
25 November 2021
London, Britain