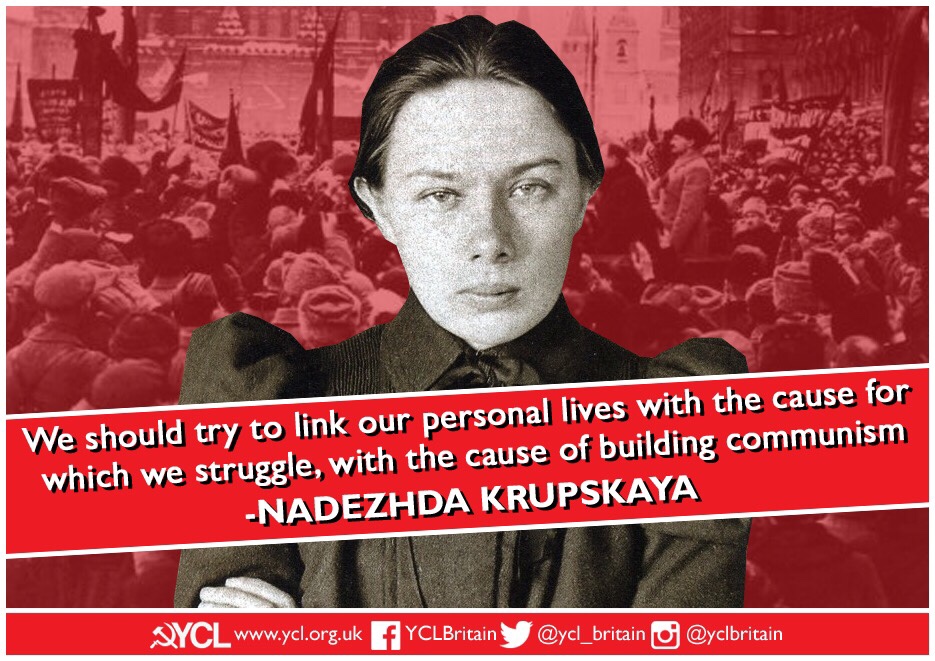 As part of a month long build up to International Women's Day celebrations on the 8th of March, the YCL will be publishing daily articles highlighting the exemplary role played by women in the international communist and working class movement.Nadzhda Krupskaya, revolutionary, soviet politician and theorist #30.
YCLers are encouraged to host, support and participate in celebrations locally to bring the message of International Women's Day into our workplaces, colleges and schools, and communities.
Nadezhda Konstantinovna Krupskaya was a Bolshevik Revolutionary and leading figure in promoting public education in the early Soviet Union.
Krupskaya was from an impoverished upper-class background; her father was a military officer charged with 'un-Russian activities' who found work where he could and her mother was a well educated governess for their rich. Her grandparents on both sides had died while her parents were young, leaving no land or money.
Before reaching her mid-20s, Krupskaya became a Marxist (whose ideas and supporters faced severe repression in the Tsarist Russian Empire) and became friends with Lenin (whom she later married). From an early age, her education as well as her experience of poverty, injustice and indignity of the capitalist system had inspired her to fight for a better life for her people.
She was arrested in 1896 for her activities and eventually joined Lenin in exile in Siberia where they were sentenced for three years. As well as working on translating, publishing and spreading revolutionary ideas throughout Russia and Europe, Krupskaya wrote the key Marxist feminist text The Woman Worker in 1899.
The Woman Worker was a groundbreaking pamphlet, banned after the failed 1905 Russian Revolution, which exposed the situation of women in the Russian Empire, the majority of whom were peasants oppressed and exploited both in the family and at work where they were paid far less.
Krupskaya argued that the woman worker, in order to achieve liberation and break the shackles of exploitation and oppression, must stand shoulder to shoulder with her fellow workers – male and female – and overthrow the capitalist system.
From then on, she played a central role in the organisation of the Russian Social Democratic Labour, predecessor of the Bolsheviks and the Communist Party. She sometimes worked as a teacher. On one occasion, she was sacked after 30,000 factory workers under her tutelage went on strike.
In 1917, the Bolsheviks swept to power. In government, Krupskaya was deputy minister of education. She led the creation of the new Soviet educational and public library systems, as well as the Komsomol (Young Communist League) and the Pioneer (similar to the Scouts) youth movements.
Soviet education guaranteed free high-quality education to all people, no matter their background, and the Soviet Union's astonishing advancement from backwards semi-feudal society to social, economic and scientific world leader with quality of life for all men and women.
She reformed the Russian Empire's ragtag libraries into centres of learning that would be accessible to the general public, helping to improve their lives and preserve the values of a more humane, socialist world.
The Komsomol and the Pioneers not only enriched Soviet citizens' lives with trips, summer camps and other activities, but also contributed to building socialism in the USSR with young people coming together in agricultural, industrial and other practical campaigns.
Krupskaya's life work was in the construction of a superior socialist society, based on human need and cooperation, in which her achievements live forever.