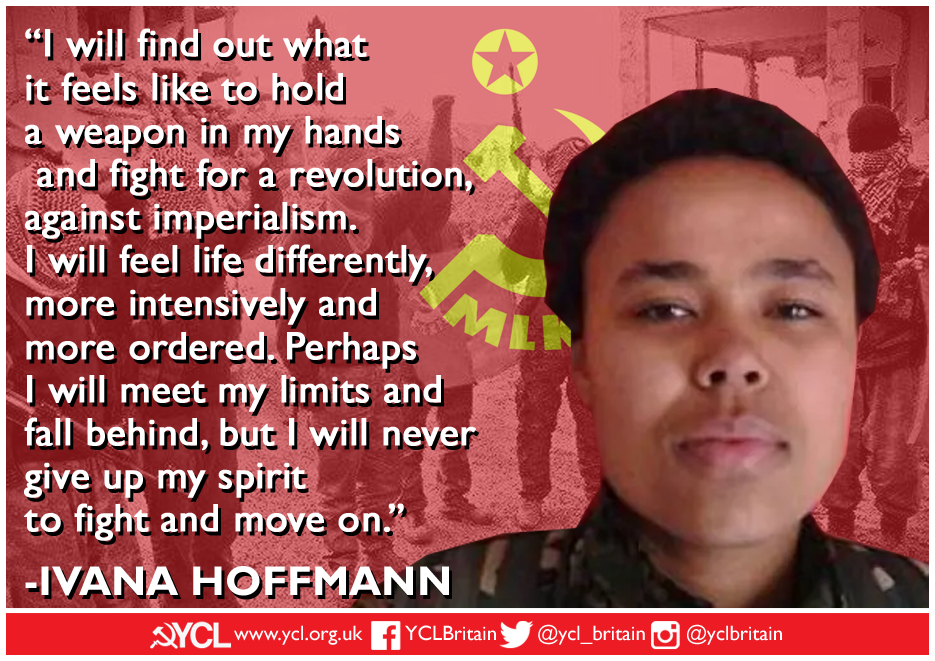 As part of a month long build up to International Women's Day celebrations on the 8th of March, the YCL will be publishing daily articles highlighting the exemplary role played by women in the international communist and working class movement.
On the fourth anniversary of her death, we pay tribute to the life of Ivana Hoffmann, Communist, international volunteer and martyr #28
YCLers are encouraged to host, support and participate in celebrations locally to bring the message of International Women's Day into our workplaces, colleges and schools, and communities.
On the 7th of March 2015 around 03.00am, one day before International Working Women's Day, Ivana Hoffman fell in the fight against ISIS in Till Temir, Northern Syria. Only 19 years old, the young communist was the first international volunteer to die in the defence of the Rojava Revolution. Her death became a lightning rod, leading to an explosion in interest in this previously obscure struggle, with hundreds of leftists volunteers joining the project she had been working on last – the International Freedom Battalion.
Ivana was born in industrial northwest Germany, the daughter of a white German mother and a migrant father from Togo, Africa. Her working class, mixed-race background meant she found common cause with the Kurdish and Turkish youth, Germany's majority migrant group, in a region where the far right violence is common. At 15 she joined a cross-community Marxist-Leninist youth group, Young Struggle, run out of local Turkish community centres. She committed herself to their campaigns, wrote for their magazine, and travelled to Turkey for international youth camps
Of the many causes which excited Ivana, the liberation of women always came first. She was a co-founder of Young Struggle's women's work – and her lesbian sexuality played no small part in her love and appreciation of women. When the remarkable women-only guerrilla units of Turkey and Kurdistan entered into direct combat with ISIS, a brutal Islamist death cult that paid particular attention to raping and enslaving women, the draw to the struggle became overwhelming for her, and she decided to join the armed wing of the Marxist Leninist Communist Party, allied to the Kurdish YPJ.
Without alerting her friends or compromising security protocol, she left suddenly one day when her roommate was in the shower. No ceremony, no farewell parties or a final embrace. Instead she left a letter of farewell which has become known around the world. We reproduce it here.
"To my comrades, my party,
I can no longer distinguish the most beautiful of colours, I no longer feel the city breeze on my skin, and even the singing birds sound like a desperate call to freedom. I have made my decision. For days and nights on end I have lived with it, but today is the day I will take the step, with intent as strong as the current of river Firat.
I want to be a part of the revolution, I want to develop myself, in these 6 months I want to learn the struggle which unites all, and if necessary give my life to defend the revolution.
I know what awaits me, I know the importance of this struggle. I will face adversity and come to realise which capitalist instincts I still follow as a fight to supress and overcome them. I will know how it feels to carry a weapon and fight for the revolution, against imperialism. I will experience a different life, more intense and more organised. Perhaps I will reach my limits and fall behind, but I will never give up my spirit to fight. I will carry on.
Nothing keeps me here any longer. I cannot stand by while my sisters, brothers, friends, mothers, fathers, comrades fight for freedom, for their independence from capitalism. In becoming part of the organised armed struggle I will embody the internationalism of our party. When I come back, I will infect my comrades, my environment with the fighting spirit and will power; I will be like the most beautiful songs and cast a spell over everyone. I become a guerilla full of altruism and hope.
Long live our party.
Long live revolution.
Long live socialism.
Your comrade Ivana Hoffmann