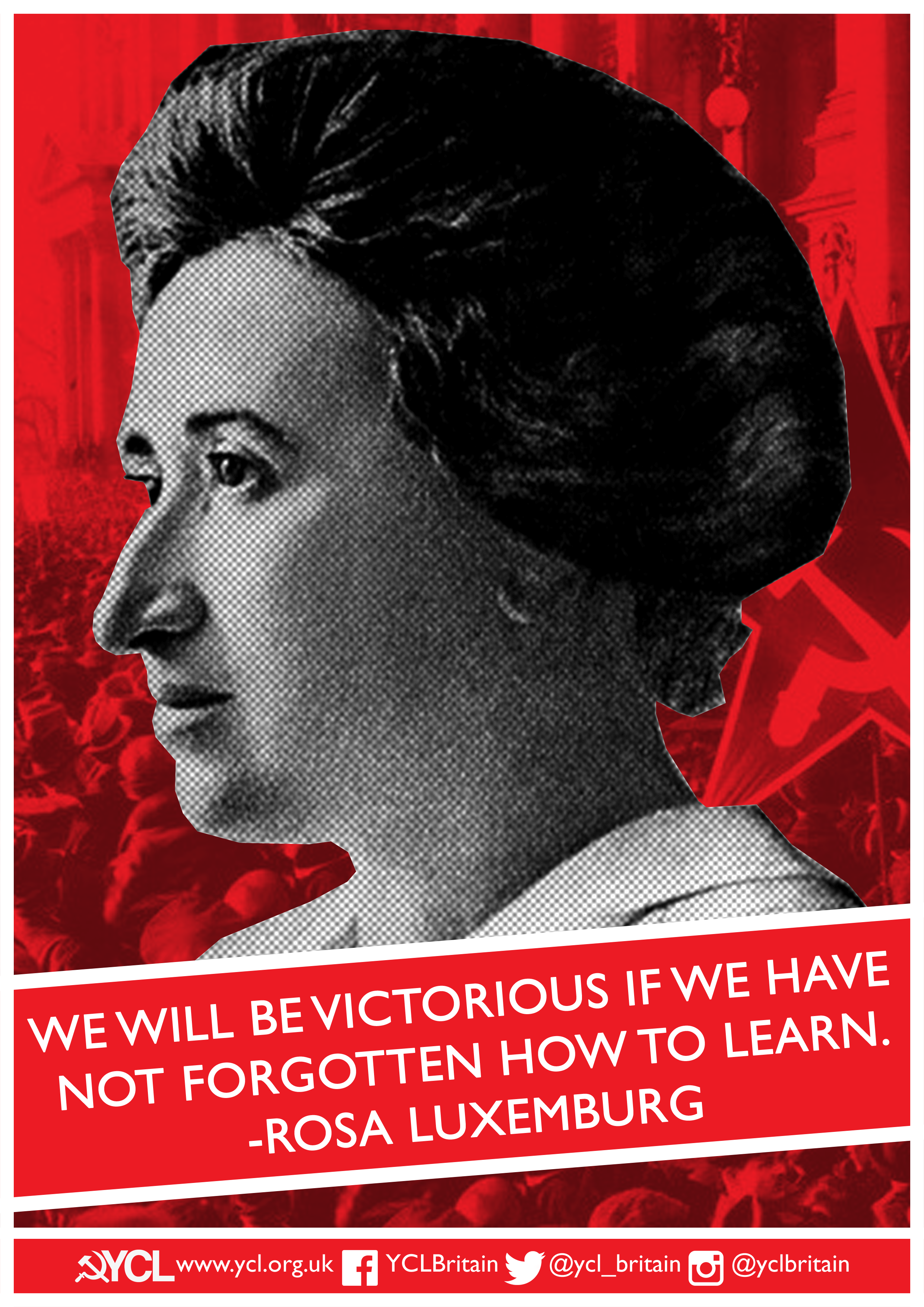 As part of a month long build up to International Women's Day celebrations on the 8th of March, the YCL will be publishing daily articles highlighting the exemplary role played by women in the international communist and working class movement.
On the 148th anniversary of her birth, we pay tribute to Rosa Luxemburg – Red Rosa – Polish communist, Marxist theorist, anti war revolutionary, women's rights activist and leading figure in the Spartacist Uprising of 1919.
YCLers are encouraged to host, support and participate in celebrations locally to bring the message of International Women's Day into our workplaces, colleges and schools, and communities.
Rozalia 'Róża" Luksenburg (1871-1919) was born on the 5th of March, 1871, in Zamość, Congress Poland, which at the time was controlled by the Russian Empire.
The young Luxemburg was introduced to politics by her father. She was also well educated, speaking German and Polish at home, and learning Russian as a hobby. Luxemburg, was left with a permanent limp after a period of illness during which she was bedridden.
From 1886, Luxemburg belonged to the Polish left wing Proletariat Party, though following the execution of some of its members post General Strike, it was disbanded. Despite this, Luxemburg and other members met in secret. She passed exams and then later fled to Switzerland to avoid detention for her participation in radical political activities.
Luxemburg gained her doctorate in the spring of 1897; her thesis was on "The Industrial Development of Poland." This in itself makes Red Rosa a radical; she was one of very few women in Switzerland to have obtained such a degree. Immediately after this, she took an interest in the politics of international Marxism.
Luxemburg, along with Leo Jogiches and Julian Marchlewski, founded the Sprawa Robotnicza (Worker's Cause) which stridently opposed the nationalist movement gaining ground at the time, and pushed by the Polish Socialist Party. Luxemburg and her comrades, in opposition to national chauvinism, argued it was capitalism from which we need to be independent from, and when the proletariat freed it's from the grip of chains of capitalism, only then could Poland be regarded as free. This sparked – and continues to spark – debate between theorists of her time, namely Lenin.
Luxemburg wished to go to Germany to be at the centre of the struggle for proletarian revolution, but had no way of obtaining the permission needed to remain living there indefinitely as a citizen. Thus, she married the son of an old friend in order to gain this. Though officially married; they never lived together and eventually would formally divorce five years later.
She moved permanently to Berlin, where it can be said her true revolutionary politics started. She joined the SPD, and made clear that the objectives of liberation for the industrial working class and indeed all humanity could be achieved only by revolution. In other words, socialism or barbarism.
Luxemburg helped to shape German politics through her work, advancing a class analysis, rather than a nationalist outlook. Luxemburg would later teach the first president of the Weimar Republic, Friedrich Ebert.
Luxemburg was staunchly anti war and fought against the slaughter of WWI. She declared "If they think we are going to lift the weapons of murder against our French and other brethren, then we shall shout 'we shall not do it!'" Red Rosa was later imprisoned for her anti war activism, and for organising anti war demos which called for conscientious objectors to refuse military orders.
In August of 1914, along with Karl Liebknecht and Clara Zetkin, Luxemburg founded Die International, who vehemently rejected the SPD's support for their own ruling class in WWI. This again led to her imprisonment, along with Liebknecht, for eighteen months.
In January of 1919, a second revolutionary wave swept across Berlin. Rosa declared on New Year's day, "today we can seriously set about destroying capitalism once and for all. Our solution offers the only means of saving human society from destruction."
Launching the Spartacist Uprising German Communists moves to take power in Berlin to establish a revolutionary government. In response, her ex pupil Ebert, now Chancellor, ordered the paramilitary, ultra right wing Friekorp to destroy the Uprising.
Luxemburg and Liebknecht were captured in Berlin on the 15th of January 1919. Luxemburg was knocked unconscious with a rifle and then shot in the head; her body dumped in the nearby Landwehr Canal. The murders of Luxemburg and Liebknecht sparked yer further struggles in Berlin and across Germany. Thousands of members of the German Communist Party were also killed for their involvement or for protesting the execution of the revolutionaries.
Although Rosa Luxemburg was brutally murdered, her ideas and example live on. She wrote of liberal feminism, which she abhorred, "Most of those bourgeois women who act like lionesses in the struggle against "Male prerogatives" would trot like docile lambs in the camp of conservative and clerical reaction if they had suffrage."
Rosa Luxemburg was a revolutionary, a radical and a true communist to the end. Her words and works are still as relevant today as ever. "Socialism is humankind's only salvation. Above the collapsing walls of capitalist society we can see the blazing words of the Communist Manifesto blazing like a fiery writing on the wall: Socialism, or demise into barbarism!"
We must also admire her sacrifice for the struggle, and acknowledge even her last words to be revolutionary: "tomorrow the revolution will rise up again, clashing its weapons; and to your horror it will proclaim with trumpets blazing: it was, I am, I shall be!"
We, as communists, and as women must take heed from Luxemburg's struggle, and strive to implement a build a society for all, and stamp out bourgeois exploitation whenever it exists, not in spite of – but because we are women.