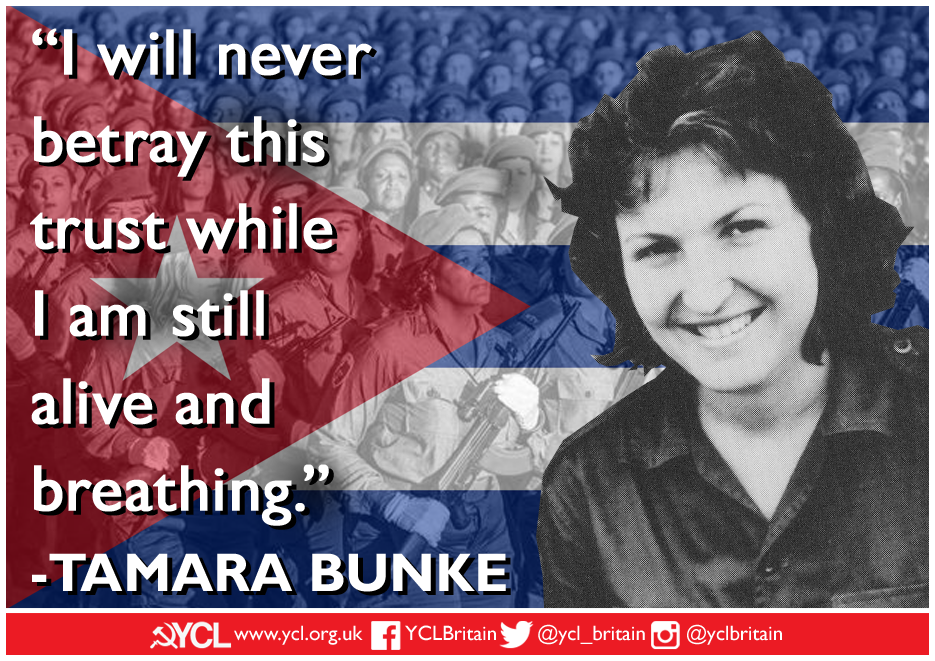 As part of a month long build up to International Women's Day Celebrations on the 8th of March, the YCL will be publishing daily articles highlighting the exemplary role played by women in the international communist & working class movement.
#22 is Tamara Bunke, Communist Guerrilla and Hero of the Cuban Revolution.
YCLers are encouraged to host, support and participate in celebrations locally to bring the message of International Women's Day into our workplaces, colleges and schools, and communities.
Haydée Tamara Bunke Bider (1937 – 1967) was born in Buenos Aires, Argentina to exiled German Communist parents. Both had been forced to leave Germany when the Nazi's seized power in 1933. Upon arriving in Argentina both joined the Party there. Tamara grew up fully exposed to the struggle with her home regularly being used to host meetings and even stash weapons.
Bunke was a high achieving student and developed a lifelong passion for the folk music of Latin America. Following the end of WWII and the establishing of socialist East Germany, she moved to the GDR along with the rest of her family.
Tamara studied political science at university in East Berlin. A committed Communist, she joined the Free German Youth, youth wing of the Socialist Unity Party. She was able to attend the World Festivals of Youth and Students which were hosted Moscow and later Havana.
Because of her impressive proficiency for languages, fluently speaking Spanish, German, Russian, French and English, she was selected to work in the Free German Youth's International Department.
With the victory of the Cuban Revolution in 1965 she was increasing tasked with translating for visiting Cuban dignitaries and diplomats. It was in 1960 that she first met Ernesto 'Che' Guevara, who was by then already a symbol of international revolutionary struggle, when she was assigned to him as an interpreter.
Inspired, she moved to Cuba in 1961 and volunteered for work brigades, building schools and homes, for the militia and in campaigns to eradicate illiteracy. She later look up posts with the Ministry of Education and the Federation of Cuban Women.
Due to her background, abilities with language and dedication she was assigned to assist with Che's Bolivian operation intended to spark a revolution there which could potentially sweep across the continent. She received training in espionage, covert operations and combat. It was here she adopted her famous nom de guerre Tania, in honor of a young Russian woman named Soja, who fought against the Nazis under that pseudonym and was arrested, tortured and hanged.
Bunke was infiltrated into Bolivia and tasked with gathering information on the Bolivian ruling class and the strength of the country's military ahead of a planned guerrilla offensive. Posing as a right wing expert in folklore, she was spectacularly successful in this task managing to rub shoulders with the Bolvian elite and even the president. She was able to provide essential information and valuable supplies to the guerrilla columns operating in the mountains.
Circumstances led to her identity being revealed forcing her to abandon her covert work in La Paz and join the guerrilla columns. Life was extremely harsh due to the conditions endured, a lack of supplies and constant attack from government forces. Tamara was the only woman fighting with the guerrillas and was also in charge of maintaining radio contact with the outside world.
As conditions deteriorated Che Guevara chose to send Bunke and other guerrillas suffering from illnesses out of the mountains to recuperate. The column was ambushed by the Bolivian army with support from the CIA on August 31 1967. She was shot through the lung while wading across the Rio Grande and died of her wounds.
On hearing the news of her death, Fidel Castro hailed her a hero of the Cuban Revolution. Today Bunke's remains are buried in the Che Guevara Mausoleum in Santa Clara alongside others killed in the Bolivian campaign, including Che Guevara himself.
In her short and intense life she had to adopt personalities and different names but the Communist guerilla who fought with Che Guevara and others in the Bolivian jungle goes down in history as Tania la Guerrillera. Her life is a stunning example of working class internationalism and self-sacrifice. Born in Argentina to German parents, an icon of the Cuban Revolution who died fighting in Bolivia to liberate all of Latin America.
In a final poem written prior to her death she asked "Will my name one day be forgotten and nothing of me remain on the Earth?". We say she lives forever in the hearts of the Communist youth and in the struggles of oppressed peoples everywhere.