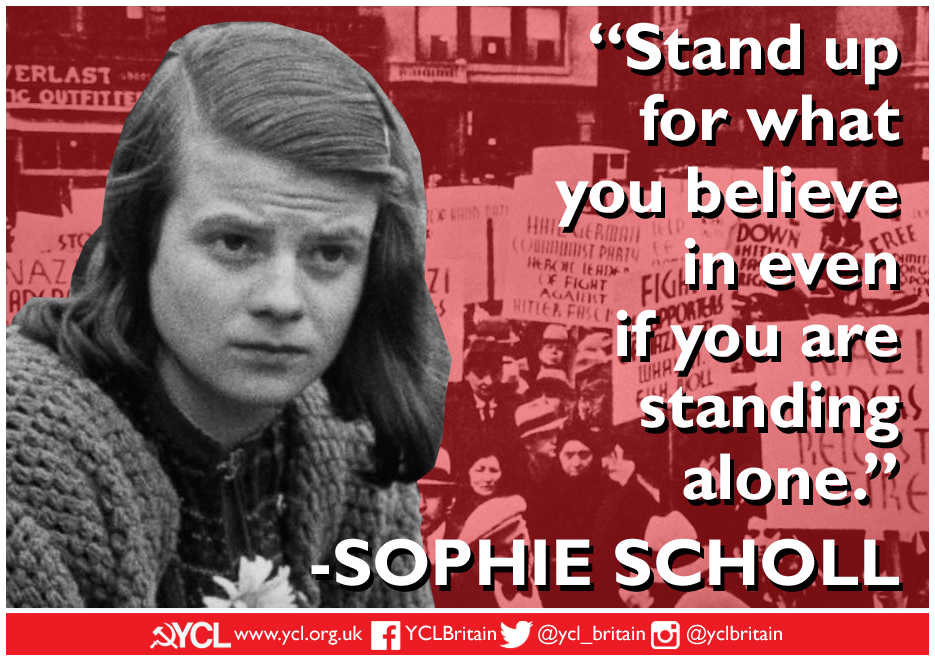 As part of a month long build up to International Women's Day celebrations on the 8th of March, the YCL will be publishing daily articles highlighting the exemplary role played by women in the international communist and working class movement.
Today, we pay tribute to Sophie Scholl, renowned anti Nazi activist.
YCLers are encouraged to host, support and participate in celebrations locally to bring the message of International Women's Day into our workplaces, colleges and schools, and communities.
Sophie Scholl (1921- ) was born on the 9th of May 1921 in Forchtenberg, Germany to liberal politician and anti Nazi parents. She moved through school and became critical of the rising wave of Nazism. She developed an avid interest in philosophy, which may have helped nurture her anti fascist views.
She graduated from school in the spring of 1940, although almost never did; having completely lost interest due to the ongoing Nazi indoctrination. Following her graduation, she began work as a kindergarten teacher, hoping it would be recognised as an alternative service to Reichsarbeitdienst (national labour service). This however turned out not to be the case; and in the spring of 1941 she began six months of service as a nursery nurse. This military like regimen caused her to seriously dwell on the dwindling political situation, leading to a growth in interest, and practice of passive resistance.
Scholl stumbled on a White Rose pamphlet at university, and upon realising her brother, Hans, had coauthored it, began to help to write the pamphlets herself. The small group of authors were horrified by the tales told to them by Fritz Hartnage, Sophie's boyfriend. He told them stories of Soviet prisoners of war being shot in mass graves, as well as mass murders of Jews. Along with six other core members, three other White Rose pamphlets were circulated over the summer of 1942.
Initially, Hans and the other members of the White Rose were keen to keep Sophie away from their political activity for fear of arrest, but she would prove valuable to them. Being a woman, she was far less likely to be stopped by the SS. The White Rose instructed Germans to passively resist the Nazi government, using theological and philosophical support and reasons for, and examples of resistance. In addition to authorship, Sophie Scholl assisted with the copying, dictation, distribution and mailing of the groups leaflets, whilst also being in charge of their finances.
Along with the rest of the White Rose, Scholl was arrested for distributing the 6th leaflet, on the 18th of February 1943. Before a Judge, she stayed her defence: "Somebody, after all, had to make a start. What we wrote and said is also believed by many others. They just don't dare express themselves as we did." The defendants were not permitted a proper testimony, this was their only defence.
On 22nd February, 1943, Sophie, her brother Hans, and other members of the movement were found guilty of treason and sentenced to death.
They were killed that same day, by beheading. Prison officials have commended her for her strength and courage in walking to her death. Her last words should provoke in us all a flame of compassion, and instil in us a will to do what is right, no matter the consequences: "How can we expect righteousness to prevail when there is hardly anyone willing to give himself up individually to a righteous cause? Such a fine, sunny day, and I have to go, but what does my death matter, if through us, thousands of people are awakened and stirred to action?"
Scholl's activism, and her death, remind us we should always vow to do all we can, fight all we can, and give all we can whenever the wrongful right rise again. We should do all we can to counteract fascism, in our schools and in our communities. We need to stand up, and kick fascism to the ground when it rears it's ugly head. As communists, on behalf of Scholl and all those wonderful women who fought fascism head on, we say ¡No Pasaran!