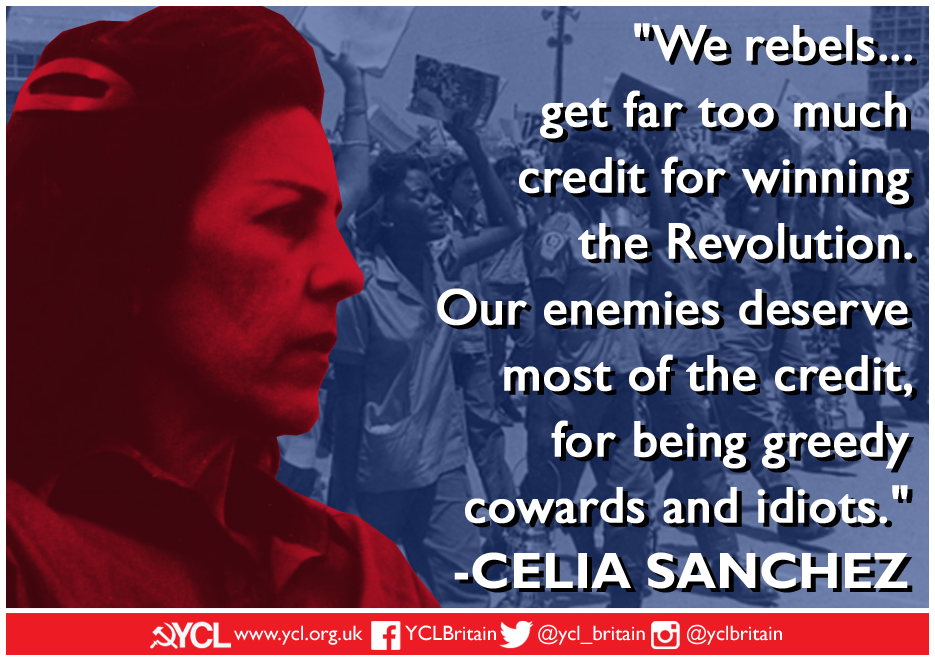 As part of a month long build up to International Women's Day Celebrations on the 8th of March, the YCL will be publishing daily articles highlighting the exemplary role played by women in the international communist & working class movement.
Our number #14 is Celia Sánchez, revolutionary fighter, Communist, researcher and politician.
YCLers are encouraged to host, support and participate in celebrations locally to bring the message of International Women's Day into Our workplaces, colleges and schools, and communities.
Celia Sánchez (1920 – 1980) was born in Cuba following the Second World War, when the island was impoverished and fully in the grip of US imperialism.
Sanchez was born and grew up in a small town in Oriente province. She was the daughter of a rural doctor and saw first hand the condition of the Cuban peasantry. Her experiences formed the basis for the development of the revolutionary ideals that led her to join the 26th of July movement.
Sanchez is best known as a revolutionary and guerrilla fighter. She was the first woman to assemble a combat group of the 26th of July Movement in Mazanillo. Sanchez went on to become an important organiser and leader in the revolutionary army.
Sanchez was instrumental in the planning and execution of the Granma landing in 1956 which launched the Cuban revolution, before becoming a key part of underground information operations which had networks in the cities and in enemy territory, and which kept Fidel and the guerrillas reliably informed of developments.
Sanchez is glorified as a heroic fighter in the Sierra Maestra. What is even more remarkable is that during this time she collated many documents, notes and letters of the revolution, which if found by Batista's forces meant death for those tied to them; but which nevertheless are priceless in giving us a deeper understanding and appreciation of the Cuban revolution's development.
After victory in the revolutionary war Celia Sanchez went on to become a member of the Communist Party's Central Committee, member of the Federation of Cuban Women's national leadership, and Secretary of the Council of State.
Even now she is seen by many Cubans as the embodiment of the new Cuban woman. Truly, in a country which continues to stand tall after 60 years of US imperialism's meddling; where the majority of judges, attorneys, lawyers, scientists, technical workers and professionals are women; where over 53% of MPs are women; where 64% of university places are taken up by women; where female life expectancy is 80.45 years; one cannot fully appreciate the condition of communist Cuban women without first paying tribute to the dedication, principles and leadership of Celia Sánchez. Her legacy shines through in each and every bold advance taken by Cuban women pushing their revolution ever onwards.
Celia Sánchez died of lung cancer on 11 January 1980. Cuban poet Mirta Aguirre later wrote:
"No one who exists in memory,
No one dies if they are there.
No one who lives in the people,
Dies or ever will die."